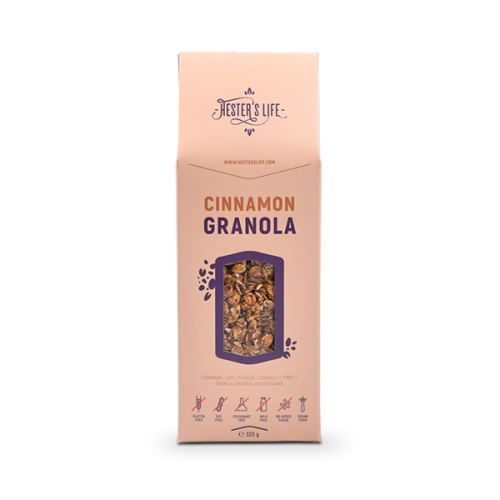 Cinnamon Granola
Cinnamon Granola
Választható ízek:
Coconut granola
Cocoa Granola
Product description
Granola - also known as baked muesli - began its conquest in the United States in the early '60s. It was originally made from Graham flour and consumed with milk. Over time, various cereal flakes were added to the mixture, sticked and baked together with some oil and honey.
Granola reinvented by the dietitian of Hester's Life from gluten free oats, whole dates and purely natural ingredients.
This granola flavoured with cinnamon holds irresistibly crunchy bites of oats. The whole date gives it a naturally sweet flavour, which takes the definition of granola to a whole new level.
Give it a twist with fresh fruits to your liking or try it as topping for your smoothie or porridge.
granola (gluten free rolled oats, date, olive oil, cinnamon (0,6%), sea salt, vanilla)
Average nutrition value
100g
50g


(1 portion)

50g in RI* % of product
* RI: reference value for an average adult (8400 kJ / 2000 kcal)
Energy
1480 kj / 354 kcal
740 kj / 177 kcal
8.9%
Fat
7.0 g
3.5 g
5.0%
- of which saturated fat
1.1 g
0.6 g
2.8%
Carbohydrate
61 g
31 g
12%
- of which of sugar
15 g
7.5 g
8.3%
Fiber
9.0 g
4.5 g
18%
Protein
10 g
5.0 g
10%
Salt
0.28 g
0.14 g
2.33%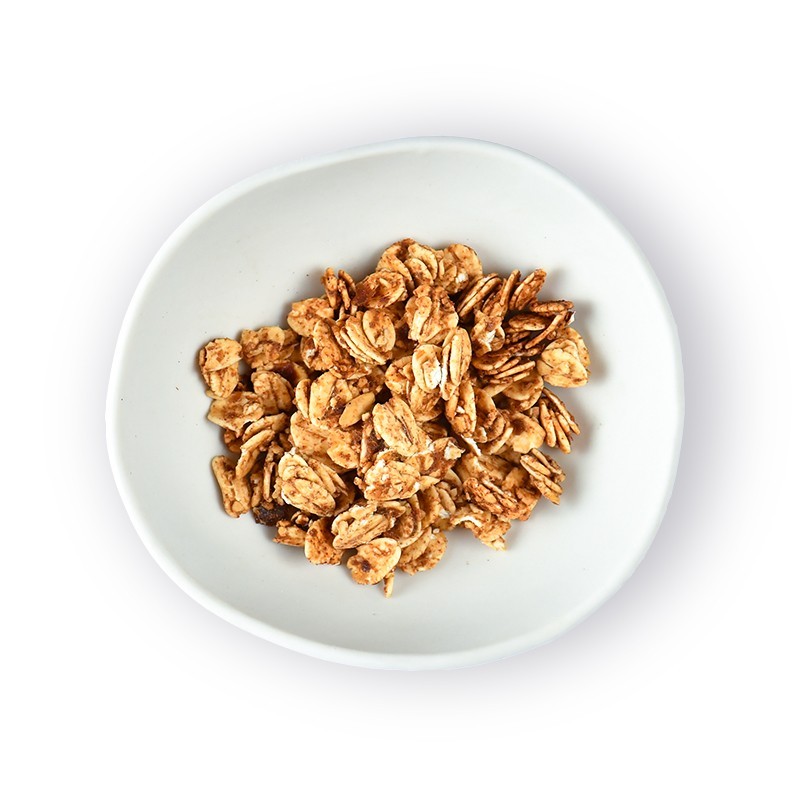 granola
Features / Characteristics
No added sugar. Free of gluten, soy, milk, colourants and preservatives. Compatible with vegan diet.
Rich in dietary fiber!
Gluten free product certified by laboratory examination!
About 6 servings per container. Recommended serving size is 50g.
Made in a facility that handles peanuts, other nuts and sesame seeds.
How to have it
Plant-based drink, milk, smoothie or yoghurt.