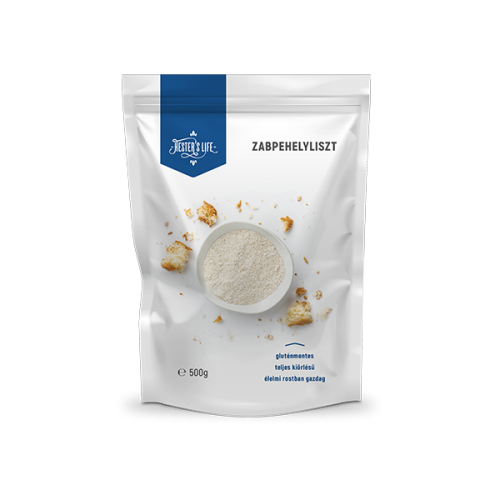 Oat flour
Választható ízek:
100% Rolled oats
Plain oatmeal
Ground date
Product description
We would like to provide conscious bakers with a perfect ingredient for their healthy cakes in the form of our premium quality Oat Flour.
The flour is milled from gluten free rolled oats and is rich in fibers. It is a must-have in any health-conscious kitchen. Using it is practically just as simple as using wheat flour. We can use it in our personal specialty cake or in any dessert, for a gravy or a roux.
Got something to bake? Try it!
Oat flour (gluten free rolled oats)
Average nutrition value
100g
0g


(1 portion)

0g in RI* % of product
Energy
1660 kj / 396 kcal
0 kj / 0 kcal
0.0%
Fat
6.6 g
0.0 g
0.0%
- of which saturated fat
1.4 g
0.0 g
0.0%
Carbohydrate
68 g
0.0 g
0.0%
- of which of sugar
0.6 g
0.0 g
0.0%
Fiber
14 g
0.0 g
0.0%
Protein
15 g
0.0 g
0.0%
Salt
9.00 g
0.00 g
0.00%
How to have it
Every great cake starts out as a great sponge-cake!
Let us show you an awesome recipe, which will give you a cake that looks good, tastes great, is deliciously conscious.
Sponge cake
Ingredients (for a 20cm cake-pan)
80g Hester's Life Oat Flour
80g Hester's Life Ground Date
4 eggs
80g water
20g cocoa powder (for the cocoa version)
1 pack of baking powder
A pinch of salt
A few drops of lemon juice
Method:
Heat oven to 180C.
Seperate the eggs.
Beat the egg whites with the lemon juice into hard foam.
Stir the ground date, the egg yolks with a pinch of salt and with the water until foamy.
Add the oat flour, cocoa powder and baking powder to it.
Finally, mix the beaten egg whites to it gently.
Pad the cake-pan with baking paper and smoothly fill it with the paste.
Bake for 35 minutes at 180C.
Can be filled with any cream after it is cooled.